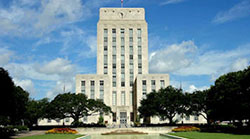 Quality of Life (QoL)
Council Member Robert Gallegos serves as Chair of the Council Committee on Quality of Life. This committee considers issues related to: the Parks & Recreation Department, Houston Public Library, the Houston Health Department, the Planning & Development Department, topics pertaining to Houston's international community and cultural affairs, and other items relating to the quality of life of Houstonians.
The Council Committee on Quality of Life meets on the fourth Wednesday of every month at 2 p.m. in Council Chambers at City Hall. All meetings are open to the public.